Pediatric First Aid CPR AED
Expired

Pediatric First Aid CPR AED
December 17, 2019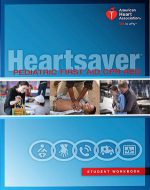 Heartsaver Pediatric First Aid CPR AED is a classroom, video-based, Instructor-led course that teaches students to respond to and manage illnesses and injuries in a child or infant in the first few minutes until professional help arrives.
This course is designed to meet the regulatory requirements for child care workers in all 50 U.S. states.
Audience
Child care workers
Teachers
Foster care workers
Camp counselors
Youth organizations
Coaches for children's sports organizations
Others responsible for children including parents, grandparents, babysitters and guardians
Features
Updated to reflect new science from the 2015 AHA Guidelines Update for Cardiopulmonary Resuscitation and Emergency Cardiovascular Care and the 2015 American Heart Association and American Red Cross Update for First Aid
Video-based lessons ensure consistency
Instructor-led, practice format reinforces skills proficiency
Ideal for learners who prefer group interaction and feedback from an Instructor
Pediatric First Aid Basics 
Controlling Bleeding and Bandaging
Using a Tourniquet
Shock
Internal bleeding
Burns and electrical injuries
Allergic Reactions
Using an epinephrine pen
Breathing problems
Dehydration
Diabetes and low blood sugar
Heat-related emergencies
Cold-related emergencies
Drowning
Amputations
Bites and stings
Broken bones and sprains
Eye injuries
Bleeding from the nose
Fainting
Head, neck, and spine Injuries
Penetrating and puncturing injuries
Poison emergencies
Seizure
Mouth and cheek injuries
Tooth injuries
Splinters
CPR and AED Use for Children and Infants. Child, and Infant Choking
January 18, 2020




8:30 am - 2:30 pm
We're sorry, but all tickets sales have ended because the event is expired.
Venue Phone: 9365235100
Address:
1400 South Loop 336 West
,
Conroe
,
Texas
,
77304
,
United States