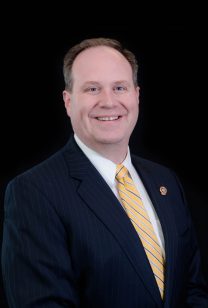 Mr. Spratt joined the MCHD Board in January 2017.  A native Texan, he was born and raised in Southeast Texas.  Upon graduating from high school, he began a career in emergency services as a volunteer firefighter in his hometown and, later, transitioned to a full-time position with the local 911 EMS provider.  He went on to become an EMT and Paramedic.  He has served as the Paramedic Field Supervisor for the 911 provider in Port Arthur, Texas.
Mr. Spratt has also worked in the oil and gas industry providing remote medical services and site safety.  He has served as a Professor of EMS at Lone Star College and currently works as the Director of Health, Safety & Environmental for an oil & gas engineering firm.
He graduated Magna Cum Laude from the University of Texas Health Science Center with a Bachelor of Science in Emergency Health Science.  He graduated from Texas A&M University with a Masters Degree in Education.  In addition to being a Texas Licensed Paramedic and Texas Licensed EMS Instructor, he holds certification as a Paramedic with both the National Registry of Emergency Medical Technicians and the State of Louisiana.  He is both an experienced EMS manager and educator.  Along with his multiple EMS certifications, he also is a Certified Safety Professional and a Certified Safety and Health Official through the Texas A&M Engineering Extension Service in both General Industry and Oil, Gas & Petrochemical.
Mr. Spratt and his wife, Amanda, reside in The Woodlands where they are raising their son and daughter.  He is active in and currently serves on the board of the Montgomery County Young Republicans as Vice-Chairman.  He is also on the Executive Board of the Texas Young Republican Federation as the Director of Club Development.