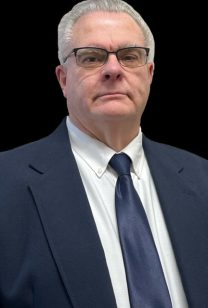 Mr. Hudson is a 50-year veteran of the public safety community. He spent 36 years in the State of Michigan working in law enforcement, EMS, emergency management and fire services. His EMS career began in 1973 and he was one of the first groups of paramedics in Michigan. He held positions as a career chief fire officer in three Michigan fire departments.
Mr. Hudson has instructed at the college level for over 30 years and served as part-time faculty for Lansing Community College, Michigan State University, and the University of Nevada-Reno Fire Science Program.
In 2009 Hudson was selected by Montgomery County Emergency Services District #8 to lead the South Montgomery County Fire Department as their first full-time fire chief. Chief Hudson retired from his position with South County in January 2022 after serving the district for 13 years.
He is a graduate of the National Fire Academy's Executive Fire Officer Program (EFO), holds the Chief Fire Officer Designation (CFO) from the Center for Public Safety Excellence, and the Fire Service Chief Executive Officer from Texas A&M University. He also completed the Professional Development Program in Emergency Management at the Emergency Management Institute at the National Emergency Training Center in Emmetsburg, Maryland,
Mr. Hudson holds a master's degree from Grand Canyon University, a bachelor's degree from Sienna Heights University, and three Associate Degrees from Lansing Community College.
Chief Hudson's son is following in the career path as a Fire Captain/Paramedic in a career fire department in SE Michigan. Chief Hudson has a grandson and a granddaughter. He has a dog and two felines at home and enjoys photography as a hobby.
Since April of 2022 he has served part-time with Montgomery County ESD 9- Caney Creek Fire & Rescue as their Administrative Chief.