THANK YOU, from MCHD EMS
February 15, 2023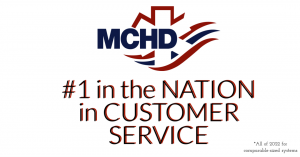 February 1, 2023
To all Montgomery County Residents, Partners and Supporters,
As we look forward to the promise of a New Year, it is important to reflect on the Year 2022 and what all of you mean to us at Montgomery County Hospital District Emergency Medical Services (MCHD EMS). Because of you and your unwavering support, MCHD is equipped to provide so much more than the typical 911 agency focused on transporting patients to the hospital. While maintaining one of the busiest EMS agencies in the state, we have been able to attract, cultivate and grow some of the brightest minds in emergency services today.
At MCHD, it all starts with a 9-1-1 call. When you are in need of an ambulance, our highly-trained dispatchers in the MCHD  911 Dispatch Center are ready to answer the call. Unlike many dispatch centers, all MCHD dispatchers are EMTs and are able to start giving lifesaving instructions over the phone before help arrives.
Our ambulances are strategically placed across the county to meet and exceed national response time standards. The national response time standard is to meet a patient who is experiencing a life-threatening emergency in 9 minutes and 59 seconds, 90% of the time. In 2022, MCHD exceeded this standard 94% of the time. Once an ambulance arrives, rest assured, some of the best EMS providers in the industry will be there to treat you. Beyond clinical care, our providers display compassion and excellent customer service. For 2022, MCHD ranked #1 nationwide in customer service for comparable-sized systems. In fact, we have ranked in the Top 3 of EMS agencies in the nation for nine consecutive years.
Two Board-Certified EMS Physicians lead our team of Paramedics and EMTs who respond to all medical emergencies in Montgomery County. This county is unique; MCHD EMS, along with our 13 fire department partners and 7 hospital systems, work together to streamline healthcare from the initial 911 call to a patient's discharge from the hospital. Our well-designed system allows for consistent emergency services across the county.
Some of the initiatives that benefit Montgomery County residents who are experiencing a time sensitive emergency are:
FOCUS ON INCREASING CARDIAC ARREST SURVIVAL RATES
A focus of MCHD is increased survival rates for those who suffer cardiac arrest. You may have seen the recent news of an NFL player who suffered cardiac arrest on the field. Because he received high-quality CPR quickly, he was released from the hospital in just 9 days. CPR is THE key to meaningful survival. That's why, as previously mentioned, MCHD dispatchers are trained to provide high-quality CPR instructions over the phone. Also, in an effort to expand knowledge of CPR to the public, MCHD provides CPR classes free of charge to Montgomery County residents.
REDUCING DISABILITY AND DEATH AFTER STROKE
Because of our close relationships to the hospitals in Montgomery County, we are fortunate to be able to implement aggressive strategies to improve patient care and save lives. When someone suffers a stroke, a minute-long delay in getting care can lead to a person's severe disability or death. They must get into the operating room quickly. This is why MCHD developed a system to identify these types of strokes and get that patient the exact care they need – now.
EXCELLENCE IN TRAUMA CARE
Timely and coordinated care is of the utmost importance to reduce disability and death after a traumatic injury. Montgomery County is home to two hospitals that have achieved the designation of being Major Trauma Facilities, which ensure residents are rapidly treated and transported to life-saving care. MCHD Paramedics have aggressive trauma protocols that allow them to provide world class care and get patients to these trauma centers quickly. MCHD also hosts a quarterly Trauma Symposium to provide education for our Paramedics and to maintain strong collaboration with our trauma partners.
RIGHT CARE, RIGHT PATIENT, RIGHT LOCATION
Getting the right care to the right patient at the right location is core to the mission of MCHD. In 2020, the U.S. government selected MCHD for a pilot program called ET3 (Emergency Triage, Treat, and Transport). After a 911 call, the ET3 model allows an eligible patient to stay in their home and opt for a telehealth visit instead of being transported to the hospital. This model helps the patient receive the care they need, and it helps to ensure ambulances are kept in service and hospital beds open for medical emergencies that require high-level interventions and hospitalizations.
Looking ahead to the rest of 2023, MCHD is grateful we have so much to be proud of within our organization.
MCHD is one of only 12 EMS agencies in the state to be CAAS-accredited. To earn CAAS accreditation, agencies must complete a rigorous self-assessment and go through a multi-day independent external audit of the organization to ensure it meets CAAS standards.
MCHD's 911 Call Center is one of few in the world to receive dual accreditation for both medical and fire protocols through the International Academy of Emergency Dispatch (IAED).
MCHD's EMS Clinical Team created and maintains one of the Top 5 EMS Podcasts in the world. It looks at best practices, educates our staff and shares knowledge with healthcare workers across the globe. The MCHD Paramedic Podcast has nearly one million (963,000K) listens from all around the world and was named by Apple in its Top 80 Science Podcasts.
So, here's to 2023! This year, we will continue to stretch our resources and make smart operational and financial decisions to best efficiently and effectively serve Montgomery County and the residents who make this a great place to work and live.
Thank you for your continued support,
Randy Johnson, CEO, Montgomery County Hospital District
James Campbell, Chief of EMS, Montgomery County Hospital District