TEENAGER & GRANDMOTHER THANK FIRST RESPONDERS WHO HELPED SAVE HIS LIFE
TEENAGER & GRANDMOTHER THANK FIRST RESPONDERS WHO HELPED SAVE HIS LIFE
July 23, 2021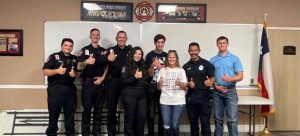 CONROE – Just two months ago, Sharon Scruggs called 911 in a panic. Her grandson, 17-year-old Logan Dillard, was carrying a metal pole when it came too close to a power line, and he was electrocuted. He went into cardiac arrest and stopped breathing, but Ms. Scruggs knew exactly what to do. She called 911 and began CPR on the teenager, listening to instructions from MCHD 911 dispatcher Shirley Alfaro. As firefighters and paramedics arrived, they snapped into action – taking over CPR and administering ALS (advanced life-saving) interventions to re-start his heart.
There is nothing more important during cardiac arrest than CPR. Every minute that goes by without CPR, not only a person's chance of survival, but their chances of having a great quality of life diminishes. That is why such an emphasis is put on bystander CPR.
Montgomery County Hospital District is home to its own 911 call center, so every medical call in the county receives at least an EMT-basic on the other end of the call. That means instead of simply dispatching an ambulance, dispatchers are trained to talk the caller through life-saving techniques, like CPR, to increase a patient's chances of survival before paramedics arrive. The MCHD 911 call center is one of only a handful of centers worldwide that has obtained accreditation status for both medical and fire protocols through the International Academy of Emergency Dispatch (IAED).
According to In-Charge Paramedic Jonathan Meyerdirk, who treated Logan on the scene along with paramedic Richard Choukair and District Chief Samuel Hancock, a CPR save is rare.
"We respond to a lot of CPR calls in our service. A very small percentage of people are able to survive. I think the fact that his grandmother got to him so quickly and took care of him before we even arrived is a huge factor in how well he's doing today. To see him doing so well means a lot to all of us."
But for her part, Ms. Scruggs couldn't be more thankful for all the first responders involved in Logan's care.
"The way the paramedics and firefighters snapped into action when they arrived was amazing. It's clear they are trained very well," she said. "How perfectly everything came together and how well he did… I just thank all of you so much. It was you and God… the reason my grandson is alive today. Children are one thing, but it really doesn't get better than grandchildren… I can't thank you enough for saving him."
MCHD would like to thank all of the first responders involved in Logan's care:
MCHD Medic 33
Jonathan Meyerdirk
Richard Choukair
MCHD District 3
Chief Samuel Hancock
MCHD 911 Call Taker
Shirley Alfaro
East Montgomery County Fire Dept.
Captain Keaton Ognoskie
Engineer Jesus Castillo
Firefighter Brandon Hayden
Montgomery County Hospital District's mission is to care for the indigent and provide EMS services while protecting the interest of taxpayers and ensuring long-term stability through fund development.  For more information about the Montgomery County Hospital District please go to www.mchd-tx.org.