MCHD promotes EMS Veteran to Clinical Division Chief
MCHD promotes EMS Veteran to Clinical Division Chief
March 1, 2021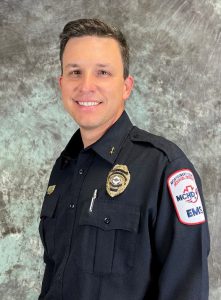 CONROE – Montgomery County Hospital District is pleased to formally announce James Seek as its new Division Chief of the Clinical Department. Chief Seek joined MCHD in May 2013 and most recently served as a District Chief before accepting this role.
"Chief Seek is a great addition to the MCHD Command Staff," said James Campbell, MCHD Chief of EMS. "We have already seen so many great things from him. His first week was when Texas was experiencing the winter storm. He stepped up in a big way and helped our crews navigate one of the busiest and most uniquely challenging times in MCHD history."
Chief Seek began his EMS career in 2005 at Northwest EMS in Tomball. In his later years at NWEMS, Chief Seek served as Safety Officer and EMS Captain. Chief Seek has a bachelor's degree in Organizational Leadership from Texas A&M-Commerce and is currently pursuing an MBA with a concentration in Healthcare Administration from Texas A&M-Corpus Christi. Chief Seek is a mentor at heart, focusing on employee professional development through his passion to uplift those around him. Chief Seek believes in using data and patient outcomes to drive the direction of prehospital care while being accountable to all stakeholders.
"I am proud to lead the Clinical Department at MCHD. It's such a great atmosphere where we find value in each other and push ourselves to innovate our practices and protocols to keep up with the latest medical research, while continuing to focus on MCHD's overall mission and commitment to our community."
Montgomery County Hospital District's mission is to care for the indigent and provide EMS services while protecting the interest of taxpayers and ensuring long-term stability through fund development.  For more information about the Montgomery County Hospital District please go to www.mchd-tx.org.