MCHD promotes EMS Veteran to Clinical Division Chief
MCHD promotes EMS Veteran to Clinical Division Chief
April 17, 2023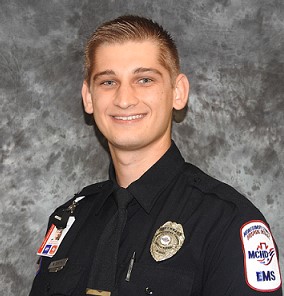 CONROE – Montgomery County Hospital District is pleased to formally announce Nick Smith as its new Division Chief of the Clinical Department. Chief Smith most recently served MCHD as a District Chief before accepting this role.
"Chief Smith is a great addition to the MCHD Command Staff," said James Campbell, MCHD Chief of EMS. "He has a unique skill set and perspective that brings instant value to the MCHD team. Chief Smith is a genuine leader who cares about his patients and crews, which aligns with our mission and core values. We are excited to see him take this next step in his career, and are confident in his abilities to lead our clinical division."
Chief Smith is a Houston native who began his EMS career in 2013. He has experience in various aspects of EMS including as a 911 Dispatcher, Communications Training Officer, Paramedic Field Training Officer and an Assistant Operations Chief. Chief Smith holds two Bachelor's Degrees: double science major at Texas A&M and a BS in Computer Science. He is currently working on a Master's Degree in Data Science at Eastern University. Chief Smith has a passion for the clinical aspect of EMS and using data to enhance the care MCHD provides the community.
"I'm excited to enter this role as a part of the clinical team. I have big shoes to fill and a talented staff to work with," said Chief Smith. "I know we'll be able to not only maintain but increase the quality of care we provide for residents in Montgomery County."
Montgomery County Hospital District's mission is to care for the indigent and provide EMS services while protecting the interest of taxpayers and ensuring long-term stability through fund development.  For more information about the Montgomery County Hospital District please go to www.mchd-tx.org.