MCHD PARAMEDICS WIN NATIONAL CLINICAL CHALLENGE
MCHD PARAMEDICS WIN NATIONAL CLINICAL CHALLENGE
October 23, 2019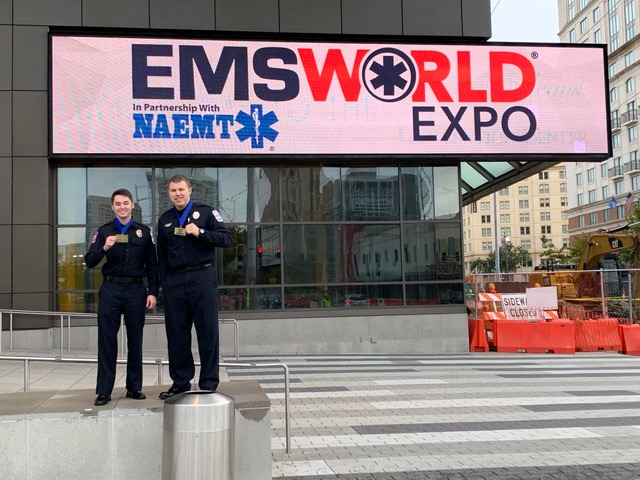 CONROE – Montgomery County Hospital District is proud to announce Russell Carter and Justin Ward won first place in the EMS World Expo's ALS Clinical Challenge. The team of MCHD paramedics competed against 26 other teams from all across the country at the EMS World Expo in New Orleans, Louisiana. They are now invited to represent the United States in a competition against paramedics from countries all over the world at an international EMS conference.
James Campbell, MCHD Chief of EMS, was thrilled to be able to witness the competition.
"I am so proud of both Russell and Justin for this outstanding accomplishment," he said. "To be able to not only represent MCHD with such skill and enthusiasm, but to also be able to prove the level of care we are able to provide for Montgomery County citizens, on a national level, is incredible."
The EMS World Clinical Challenge is a clinical competition where teams of two respond to challenging scenarios that test clinical knowledge, critical thinking skills, teamwork, communication and situational awareness. Teams elect to participate in either an ALS (Advanced Life Support) or BLS (Basic Life Support) track, depending on their level of certification. A panel of judges evaluates their performance and provides valuable feedback.
Justin Ward was proud to be able to represent Montgomery County on a national stage.
"We're just really humbled by this honor," Ward said. "We went into this competition not knowing what to expect. So, to win on our first time is amazing."
Russell Carter agreed.
"The chance to challenge ourselves and our skills against tough competition is a unique experience," Carter said. "The skills and training paramedics get from working at MCHD sets us up for success in even the most difficult and unpredictable circumstances."
Montgomery County Hospital District's mission is to care for the indigent and provide EMS services while protecting the interest of taxpayers and ensuring long-term stability through fund development.  For more information about the Montgomery County Hospital District please go to www.mchd-tx.org.