MCHD, hires James Campbell as Assistant Chief of EMS Operations
MCHD, hires James Campbell as Assistant Chief of EMS Operations
May 29, 2018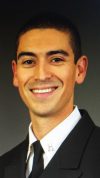 CONROE – Montgomery County Hospital District is proud to announce James Campbell as its new Assistant Chief of EMS Operations; his first day is slated for June 4.
Chief Campbell comes to MCHD from the City of Celina Fire Department, where he has served as the EMS Captain for the past four years, helping to develop an EMS system in one of the fastest-growing cities in the DFW Metroplex. In May of 2018, he received the City of Celina Employee of the Year Award for his efforts and contributions to the community. He began his EMS and Fire career in 2002 in Fayetteville, North Carolina. Upon returning to Texas in 2008, he joined the City of Celina Fire Department.
In his current role, Chief Campbell oversees all aspects of the EMS service for Celina Fire, including training, quality, licensure, protocol development, hospital relations, and materials management. Chief Campbell came to observe MCHD EMS operations twice during the selection process, and is very eager to begin his new role with MCHD. He will start by completing an abbreviated NEOP schedule and credentialing process. In the following weeks and months Chief Campbell and Director of EMS Jared Cosper will spend a significant amount of time rounding to meet as many employees as possible while he is completing his on-boarding training.
Chief Campbell is currently pursuing a Bachelor's Degree in Emergency Health Sciences from The University of Texas Health Science Center. He has a true passion for EMS and welcomes the opportunity to learn and lead in an industry that is continually evolving. He is anticipating becoming a contributing member to the MCHD team.
---
Media Contact:
Christopher Elliott
Public Information Officer
Phone: (936) 537-0611
Email address: celliott@mchd-tx.org