MCHD EMS CHIEF RECEIVES NATIONAL HONOR
MCHD EMS CHIEF RECEIVES NATIONAL HONOR
February 18, 2020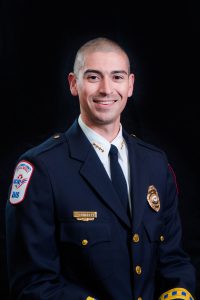 CONROE – Montgomery County Hospital District is proud to announce EMS Chief James Campbell has been selected as the American Ambulance Association's Mobile Healthcare 40 Under 40. This is an opportunity for AAA to recognize exceptional rising leaders contributing to the future of EMS who are under the age of 40. Nominees were selected based on their contributions to the American Ambulance Association, their employer, state ambulance association, other professional associations, and/or the EMS profession.
Chief Campbell joined Montgomery County Hospital District (MCHD) in June of 2018 and began his role as the Chief of EMS in March of 2019. He began his EMS and Fire career in 2002 in Fayetteville, North Carolina. Upon returning to Texas in 2008, Chief Campbell joined the City of Celina Fire Department, where he served as the EMS Captain for four years. He is currently pursuing a Bachelor Degree in Emergency Health Sciences from The University of Texas Health Science Center. Chief Campbell is a certified member of the American College of Paramedic Executives (FACPE), serves as a member on the Governor's EMS & Trauma Advisory Council (GETAC) EMS Committee, and is a Board Member for the Southeast Texas Regional Advisory Council (SETRAC).
Chief Campbell is committed to working closely with the MCHD Board of Directors, other first responder agencies and hospital partners to continue a successful and collaborative healthcare model in Montgomery County.
Montgomery County Hospital District's mission is to care for the indigent and provide EMS services while protecting the interest of taxpayers and ensuring long-term stability through fund development.  For more information about the Montgomery County Hospital District please go to www.mchd-tx.org.