MCHD ANNOUNCES NEW ASSISTANT CHIEF OF EMS OPERATIONS
MCHD ANNOUNCES NEW ASSISTANT CHIEF OF EMS OPERATIONS
June 24, 2019
For Immediate RELEASE
For more information, please contact: 
Misti Willingham, Public Information Officer
C:  936.537.0611
DATE:  June 24, 2019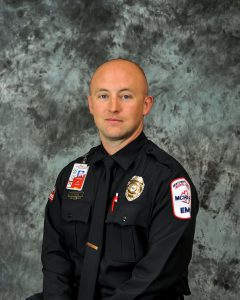 CONROE – Montgomery County Hospital District is proud to announce Jacob Shaw as its new Assistant Chief of EMS Operations. Chief Shaw has been with MCHD for 10 years, most recently as a District Chief.
Chief Shaw will filling the opening left after the promotion of EMS Chief James Campbell last February. The two will work alongside each other to ensure a smooth transition for Chief Shaw.
Chief Shaw is excited to be taking on this new leadership role within the District.
"I am honored, but more so, humbled to be entrusted with a role such as this," he said. "Helping to lead one of the best EMS organizations in the country is not a task I take lightly, but I gladly take on this challenge and cannot wait to see what the future holds for not only MCHD, but all the residents of Montgomery County."
Chief Shaw joined MCHD in January of 2009 as an Attendant Paramedic and immediately showed great leadership potential by winning the 2010 Supervisor's Award for Attendant of the Year. He promoted to In-Charge Paramedic in 2011 and went on to climb the ranks all the way to District Chief by May of 2016.
EMS Chief James Campbell sees Chief Shaw as an excellent addition to the Command Staff of MCHD.
"During his career, Chief Shaw has excelled operationally and clinically while maintaining a level of professionalism that exemplifies MCHD's core values," Chief Campbell said. "His leadership skills and people-centered philosophy are going to help take our organization to the next level."
Chief Shaw will officially begin his new role on Monday, August 5th.
Montgomery County Hospital District's mission is to care for the indigent and provide EMS services while protecting the interest of taxpayers and ensuring long-term stability through fund development.  For more information about the Montgomery County Hospital District please go to www.mchd-tx.org.