MAJOR LEAGUE BASEBALL SCOUT THANKS PEOPLE WHO SAVED HIS LIFE
MAJOR LEAGUE BASEBALL SCOUT THANKS PEOPLE WHO SAVED HIS LIFE
August 29, 2019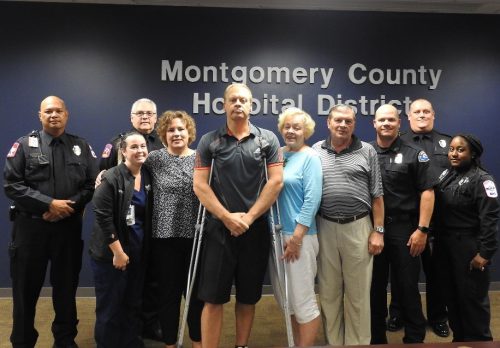 CONROE – Tom Dreier and his family say he owes his life to a group of people whom had never met him before. Mr. Dreier was driving near his home in The Woodlands in May 2019 when he suffered cardiac arrest, veered off the road and into a ditch. Adrian Heath just happened to see him slumped over in the driver's seat, u-turned and ran over to help. Mr. Heath called 9-1-1 and began CPR until firefighters and paramedics arrived to take over his care.
Mr. Heath had never performed CPR, and he had not been trained. That's where MCHD 911 dispatcher Scott McCully came in.
"He was hesitant at first," McCully said. "So, I told him, you're the true hero here, I'm going to tell you everything you need to do. I just need your hands."
Montgomery County Hospital District is home to its own 911 call center, so every medical call in the county receives at least an EMT-basic on the other end of the call. That means instead of simply dispatching an ambulance, dispatchers are trained to talk the caller through life-saving techniques, like CPR, to increase a patient's chances of survival before paramedics arrive. The MCHD 911 call center is one of only a handful of centers worldwide that has obtained accreditation status for both medical and fire protocols through the International Academy of Emergency Dispatch (IAED).
According to paramedic P.J. Mallare, who treated Mr. Dreier on the scene along with paramedic Tamarah Tribie and District Chief Kevin Mifflin, a CPR save is a rare occurrence.
"We'll do, let's say, 30 CPRs in a month. Only a very small fraction of those walk out of the hospital with no deficits like Mr. Dreier. It really is amazing."
Mr. Dreier is a 42-year-old Major League Baseball scout for the Baltimore Orioles. As a former college and minor league baseball player, he never imagined going through something like this at such a young age. But now, after a two-week stint in the ICU and three weeks in rehabilitation, Mr. Dreier has made a miraculous recovery and is back to work finding the best baseball players in Texas. Mr. Dreier is credited with signing the #1 draft pick in the 2018 MLB Draft.
His family is thrilled to have him back and grateful for the care he received by first responders and the hospital.
"The skill, the knowledge and the wisdom that you all have displayed is remarkable," Wayne Dreier, Tom's father, said. "From the dispatchers to the paramedics and EMTs, it was just fantastic."
MCHD would like to thank the bystander and all first responders involved in Mr. Dreier's care:
Adrian Heath, Bystander
Tamarah Tribie, MCHD Attendant
PJ Mallare, MCHD In Charge
Kevin Mifflin, MCHD District Chief
Scott McCully, MCHD 911 dispatcher
D/O Jason Upton, The Woodlands Fire Department
Firefighter Jimmy Ballinger, The Woodlands Fire Department
Firefighter Eduardo Escobar, The Woodlands Fire Department
Firefighter Brandon Pounds, The Woodlands Fire Department
Battalion Chief Michael Berryman, The Woodlands Fire Department
Montgomery County Hospital District's mission is to care for the indigent and provide EMS services while protecting the interest of taxpayers and ensuring long-term stability through fund development.  For more information about the Montgomery County Hospital District please go to www.mchd-tx.org.