FAMILY THANKS FIRST RESPONDERS FOR SAVING YOUNG WOMAN'S LIFE
FAMILY THANKS FIRST RESPONDERS FOR SAVING YOUNG WOMAN'S LIFE
October 6, 2022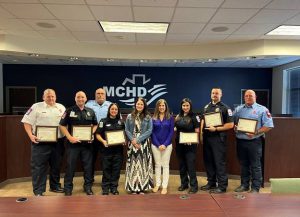 CONROE – Last July, 36-year-old Megan Kelley was eating breakfast at her mother's home when she went unconscious. What her mother didn't know at the time is that she was in cardiac arrest, stemming from a pulmonary embolism.
Her mother immediately called 911 and spoke to an MCHD 911 dispatcher, Angelica Knight. During a reunion with providers this week, she described that day and spoke directly with Angelica.
"I was so terrified, "she said. "I remember feeling much more calm after hearing your voice and instructions over the phone. You did a great job. I'm so thankful for you."
When MCHD paramedics arrived, they realized Megan was in critical condition. Captain Travis Clay explained to the family what happened next.
"We put you on a monitor right away and noticed your heart rate start to accelerate. That's basically when we knew CPR was necessary," Captain Clay said. "We began good quality CPR, put you on a ventilator and began treating you with medications to prevent any further damage to your heart."
Firefighters from Needham Fire Department arrived and began assisting in the efforts to save Megan's life.
"Fortunately, your heart started beating again, and we were able to notify the hospital and transport you safely to the emergency department," said Captain Clay.
Megan's mom said the first responders saved her daughter's life that day.
"I had never seen CPR in person before. They worked so hard to save her life. All of them, worked so hard for so long… I'm just so grateful to all of you."
Today, Megan is back to writing songs, singing and entertaining crowds. You can find her work at Megan Kelley Music on Facebook.
MCHD would like to thank all of the first responders involved in Megan's care:
MCHD Paramedics
Travis Clay, Captain
Johna Gilson, Attendant Paramedic
Scott Sanders, District Chief
MCHD ALARM
Angelica Knight, ALARM Medic I
Needham Firefighters
Richard Sanguedolce, Battalion Chief
Robert Matthews, Lieutenant
Paul Gregory, Engineer
William Sharp, Firefighter
Montgomery County Hospital District's mission is to care for the indigent and provide EMS services while protecting the interest of taxpayers and ensuring long-term stability through fund development.  For more information about the Montgomery County Hospital District please go to www.mchd-tx.org.