FAMILY THANKS FIRST RESPONDERS FOR SAVING FATHER'S LIFE DURING CARDIAC ARREST
FAMILY THANKS FIRST RESPONDERS FOR SAVING FATHER'S LIFE DURING CARDIAC ARREST
July 25, 2023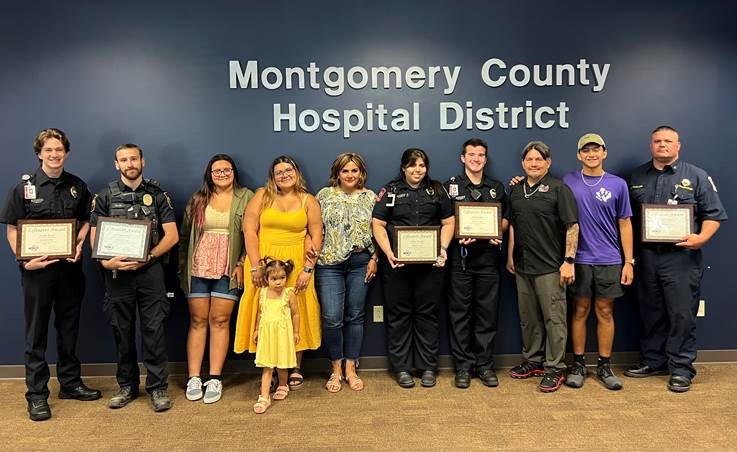 CONROE, TEXAS – Less than three months ago, Edwin Cruz wasn't feeling well and told his wife he was going to lay down. His condition quickly worsened into nausea and chest pains before he went unresponsive in his bedroom. His wife, Julia, jumped into action. She called 911 and followed the instructions of Austyn Roach, in MCHD's 911 Dispatch Center. Leaning on the medical training she had in her career as a medical assistant, Julia started CPR on her own husband as Austyn talked her through it – step by step.
The first person to arrive on scene was a Willis police officer, who took over CPR and applied an AED to shock Edwin's heart to a normal rhythm. Minutes later, firefighters and MCHD paramedics arrived to take over his care. They put in a breathing tube and began dual sequential defibrillation. A short time later, paramedics confirmed that his pulse had returned, and his heart was beating again on its own. Paramedics administered vital medications and ensured Edwin remained stable as they transported him to the hospital.
During a reunion held this week, Edwin and Julia, in addition to their three children, thanked all the first responders who saved his life that day.
"Thank you for fighting so hard to get my husband back," said Julia. "From the moment I called 911… it was just a well-oiled machine. I think God aligned the stars that night."
After a very short hospital stay, Edwin was released home and was back to work just a few weeks later. He is doing amazingly well and is happy to be back at home with his family.
Kevin Crocker, MCHD Division Chief – Quality, emphasized the importance of bystander CPR.
"The chances of surviving cardiac arrest is less than 10 percent," he said. "For every minute you go without CPR, your chances of meaningful survival decrease significantly. That's why it's so important for everyone in our community to be CPR trained – to get oxygen to the brain in those minutes before first responders arrive."
Julia said that without the men and women in that room, she wouldn't have her husband today.
"Thank you so much for going into this field. Being in the medical field, your heart gets broken pretty much every day and you can get lost. Thank you for not losing yourself and just know that you are making a difference for the people. For us… and everyone in the community you care for. Without you, my family wouldn't be my family anymore."
If you are interested in taking a CPR class with MCHD, free-of-charge, please go to https://www.mchd-tx.org/community-education/cpr/.
MCHD would like to thank all of the first responders involved in Mr. Cruz's care:
MCHD Paramedics
Lillian Trosclair, In-Charge
Michael Burt, Attendant
Tyrone Philogene, District Chief
MCHD 911 Dispatch Center
Austyn Roach, ALARM Medic I
Willis Police
Officer William Irwin
North Montgomery County Firefighters
Zach Holcomb, Officer
Jacob Butler, Driver
Eric Barhan, Firefighter
Nathaniel Medina, Firefighter
Scott Traylor, Battalion Chief
Montgomery County Hospital District's mission is to care for the indigent and provide EMS services while protecting the interest of taxpayers and ensuring long-term stability through fund development.  For more information about the Montgomery County Hospital District please go to www.mchd-tx.org.