FAMILY THANKS FIRST RESPONDERS FOR OUTSTANDING CARE OF YOUNG MOTHER
FAMILY THANKS FIRST RESPONDERS FOR OUTSTANDING CARE OF YOUNG MOTHER
March 8, 2022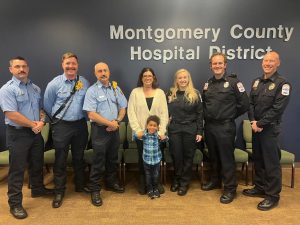 CONROE – It was early January of 2022, when Chelsea Ibarra collapsed in the shower, triggering a set of events that left her hospitalized with severe injuries. The 25-year-old mother, who suffers from epilepsy, had a seizure and damaged the faucet knob as she fell. The water was scalding hot and left her with third degree burns.
Her mother, Heather Taylor, found her and immediately called 911. During a reunion with providers this week, she described that day.
"I was so frantic; I had no idea what to do, and I was panicking. The first person I spoke to on the phone was the 911 dispatcher, who helped calm me down and focus my attention on my daughter," said Ms. Taylor. She began to follow instructions given by Tammy Parker, a District Chief in MCHD's 911 Call Center.
When MCHD paramedics and firefighters from the Conroe Fire Department arrived, they took over Chelsea's care and began administering medications to control her severe pain.
"The crew used some creativity and great clinical thinking to manage her pain," emphasized Jacob Shaw, MCHD's Assistant Chief of EMS. "They walked a fine line to avoid putting her to sleep even with the immense pain she was in at the time. This is the type of care MCHD always strives to provide. We can thank [MCHD Medical Director] Dr. Dickson for providing the training and guidance to allow such autonomy in our clinical practice and really do what is best for each individual patient."
Ms. Taylor, Chelsea's mom, said she felt like the paramedics and firefighters saved both her daughter's and her life that day.
"You could tell, they were a team and they knew exactly what they were doing. I have always had respect for paramedics and firefighters and all first responders, but this experience just shows how important you all are to our community, I truly have no idea what we would have done without you," said Ms. Taylor. "We are just so thankful, and it makes me emotional to see all of your faces again today because of how well you treated my daughter. Thank you all for everything you did that day."
MCHD would like to thank all of the first responders involved in Chelsea's care:
MCHD Paramedics
Kevin Culver, Captain
Emily Shannon, Attendant Paramedic
Spencer Hall, District Chief
MCHD ALARM
Tammy Parker, ALARM District Chief
Conroe Firefighters
Zach Simmons, Lieutenant
Chase Morgan, Engineer Operator
Sean Semora, Firefighter
Montgomery County Hospital District's mission is to care for the indigent and provide EMS services while protecting the interest of taxpayers and ensuring long-term stability through fund development.  For more information about the Montgomery County Hospital District please go to www.mchd-tx.org.