IPMBA EMS Cyclist Course
August 30, 2018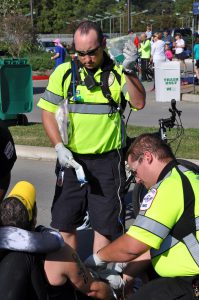 October 22nd-25th, 2018
Be first on scene!
Nothing moves more swiftly through a
crowd than a bike medic responding to a call for help.
However you use your bike fleet, this essential emergency
operations course will improve your response times and
help you meet your goals. Learn to select and pack
equipment, maneuver a fully loaded bike, and perform
basic bike maintenance and on-the-road repairs. Course
includes night operations, scenarios, and defensive
measures.
IPMBA training is the Gold Standard for EMS and Police Bike Teams!
Get your team trained today! No fee for class for Mutual Aid Agencies
All 4 days of training are required to be certified.
To reserve your spot or if you have any questions
email or call Patrick Langan.