CPR Saves Man's Life at Walden Yacht Club Pool
CPR Saves Man's Life at Walden Yacht Club Pool
July 10, 2019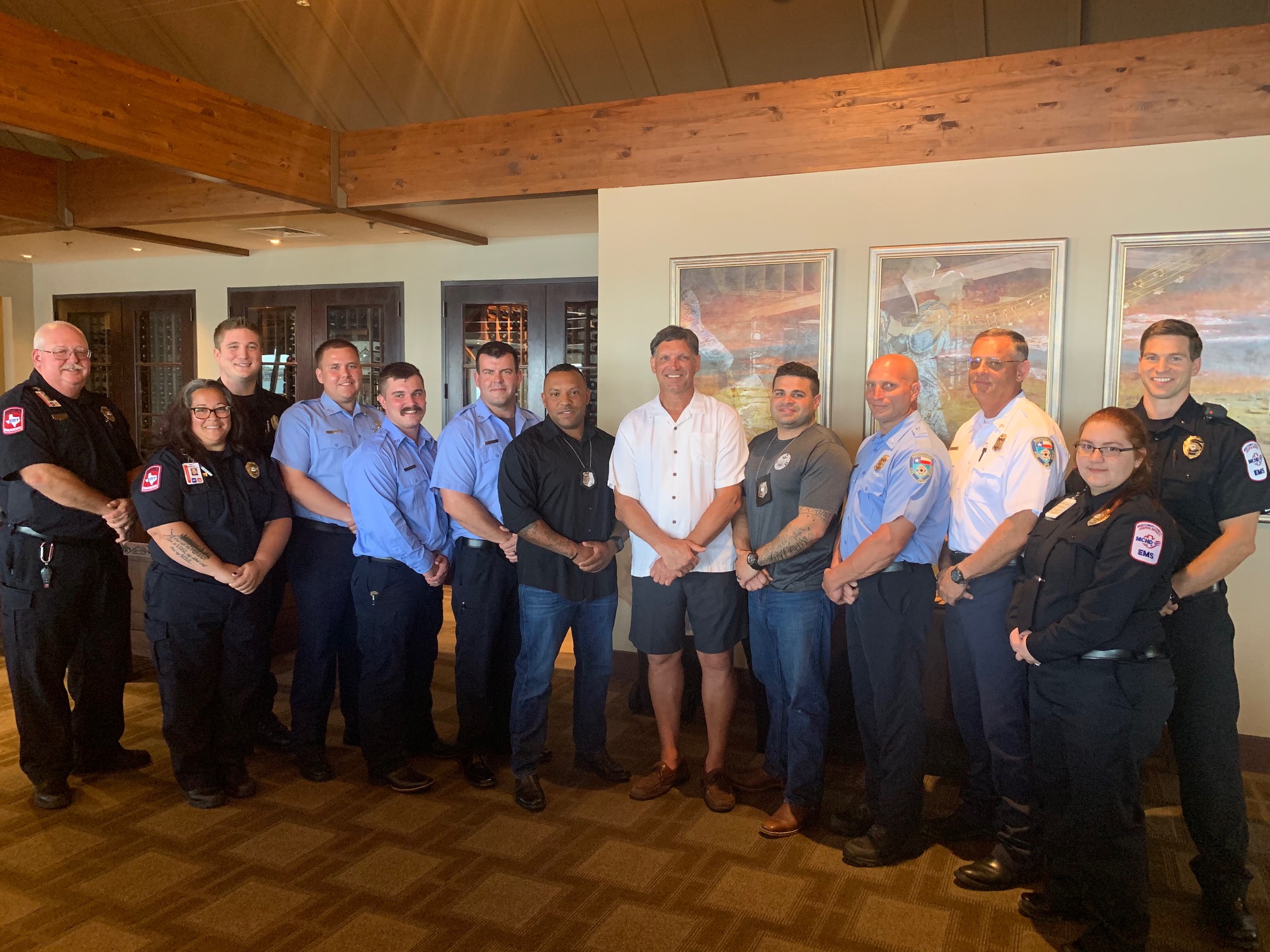 CONROE – Sometimes what starts as an ordinary day can turn extraordinary. That was the case on May 21st, when 12 people were brought together to save a man's life… on what started as just another Tuesday. Houston Police Officers Jose Reyes and Ariel Nunez were enjoying a day off in the Walden Yacht Club pool, swimming laps for exercise. Just as they were leaving to eat breakfast, Phillip Brewer fell to the pavement. He was in cardiac arrest. His heart was not beating. He was not breathing. The officers wasted no time, ran over to him and started CPR. There's nothing more important than starting CPR immediately when something like this happens because for every one minute someone is in cardiac arrest without CPR, their chances of survival decrease by ten percent. Ten percent per minute. Fortunately for Mr. Brewer, the HPD officers were trained in CPR and kept up chest compressions until firefighters from Montgomery County ESD #2 and paramedics from MCHD arrived on scene. Paramedics administered medications, intubated the patient and were able to establish that Mr. Brewer had regained a pulse. He was alive.
Mr. Brewer was emotional when he described waking up in the hospital with no memory of what had happened.
"I just knew I had a lot of hands to shake," he said. "I'm so grateful for all of you."
After a short hospital stay, Mr. Brewer is now back to his normal activities and back to work. This wouldn't have happened without the heroic efforts of HPD Officers Jose Reyes and Ariel Nunez and the first responders who brought him back to life. It is a testament to just how impactful CPR can be in saving a life.
The national average for out-of-the-hospital CPR is only 10 percent, but here in Montgomery County, we are fortunate to have highly-skilled paramedics taking care of us. For MCHD, the CPR survival rate is 14 percent. But it cannot just be first responders who are trained in CPR because bystander CPR gives a person the best chance at not only survival, but having the best outcome possible. MCHD offers free CPR and First Aid classes to Montgomery County residents. Click this link to learn more:
http://www.mchd-tx.org/calendar-of-events/
Thank you to all the first responders who saved Mr. Brewer's life.
HPD Officer Jose Reyes
HPD Officer Ariel Nunez
Lt. Gary Vaughan, Montgomery Fire Department
Firefighter Josh Barnett, Montgomery Fire Department
Firefighter Shawn Deromedi, Montgomery Fire Department
Firefighter Jacob French, Montgomery Fire Department
Battalion Chief Don Larson, Montgomery Fire Department
MCHD In-Charge Michael Wells Whitworth
MCHD Attendant Luther Olden
MCHD Attendant Roi Anne Lee
MCHD 911 Dispatcher Destiny Lafferty
MCHD District Chief Ryan Davenport
Montgomery County Hospital District's mission is to care for the indigent and provide EMS services while protecting the interest of taxpayers and ensuring long-term stability through fund development.  For more information about the Montgomery County Hospital District please go to www.mchd-tx.org.